ANERIS was represented at the 2023 European Operational Oceanography conference (EuroGOOS) in Galway, Ireland between the 3rd and 5th of October by our project coordinator Jaume Piera from the Spanish National Research Council.
The EuroGOOS 2023 Conference is a blend of plenary, splinter, and poster sessions, alongside round tables for focused discussions addressing the latest advancements in operational oceanography. Marking the third year of the UN Decade of Ocean Sciences for Sustainable Development (2021-2030), key priorities included evaluating current oceanography practices, advancing sustainable in situ observations, envisioning a seamless forecasting system for European seas and the global ocean, aligning operational oceanography with policy needs, promoting stakeholder engagement, and endorsing diversity and inclusivity within the ocean science community.
The conference programme over the three days included keynote talks and sessions around the topics of Operational Oceanography for EU and global societal needs, Ocean digital twins for Europe, Boosting EOOS observing capacity in situ, Advances in ocean forecasting, Europe's oceanographic fleet, Operational oceanography, Ocean modelling and more.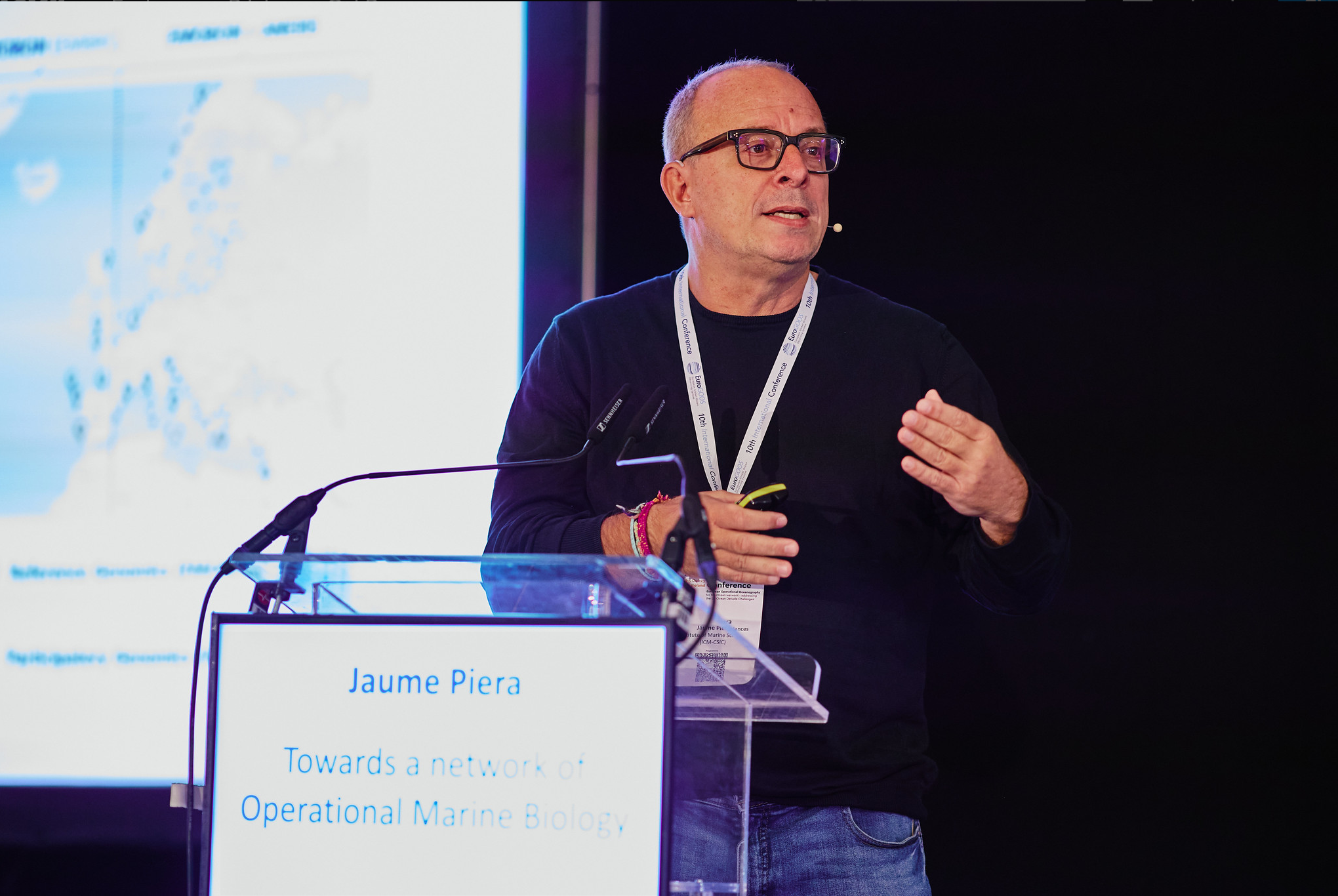 ANERIS Coordinator Jaume Piera presenting "ANERIS: Towards a network of Operational Marine Biology". Photo credit: Michael Rea
Jaume gave a presentation titled "Towards a network of Operational Marine Biology (OMB)" during last day's session, where ANERIS's vision for a functional OMB framework and the technologies we aim to develop to achieve it were discussed. Other presentation topics within the session included the role of cloud services for ocean digital twins (Dick Schaap, MARIS); The future of operational oceanography - perspectives of the global and European communities (Toste Tahnua, EuroSea, GOOS, GEOMAR); Knowledge transfer and international dimension of European maritime regions (Julien Mader, EuroGOOS IBI-ROOS), and others. Read the main meeting outcomes on the dedicated EuroGOOS page.